At Focus, we put people first—always. It's in our DNA. It's the rich gooey goodness at our core. And not just because our business heavily depends on people. We genuinely want to see our employees thrive—enjoying life, doing good in the world, and living up to their potential. So, we help them do that.
In big ways

Valuable life and job skills training, leadership development and opportunities, career planning (even if it's away from Focus), generous benefits, and assistance with transportation, day care, tax filing, or housing
In small ways

Gym memberships, ski lift passes, concert tickets, movies in the park, family picnics, holiday bashes, good food, lots of laughs, and…the game room!
  In meaningful ways

Being part of a caring company family, working toward common goals, serving together in the community and abroad, aspiring to values that bring out the best in people
We are process artists. We like getting into the nitty-gritty workings of our business to tweak here and tinker there. The processes we've perfected create predictability in the bustling whirl of a contact center, which means better returns for you and a better experience for your customers.
   Focus Footpath

The Focus Footpath is our overall process for becoming a Contact Center of Excellence. Once we asses your needs, we recruit and train the right people, help them create predictable habits, give them the tools and autonomy to succeed, evaluate their work, and then use that data to perfect our performance as we start the process again.
  Boutique + Big-Box

Boutique contact centers deliver on speed, flexibility, and performance. Big-box operators give you scalability, tech strength, and global reach. With Focus, you get the best of both. We've married the two in a "happily ever after" hybrid—small, nimble, tech-loaded contact centers in locations in North America, Europe, Central America and Asia.
  Strategic Business Units

Customer care takes out-of-the-box strategy, and that's what you get with our Strategic Business Units, or SBUs. Each one is like a mini-company, with a dedicated director who works one-on-one with you, the client. These plucky execs manage business operations, take on complete P&L responsibility, and make sure that we do exactly what we promised. "SBU-tiful!"
We've developed some amazing technology specifically for the customer contact industry. Our agent performance platform, ClearView, is loaded with tools and features that empower our agents to drive their own performance.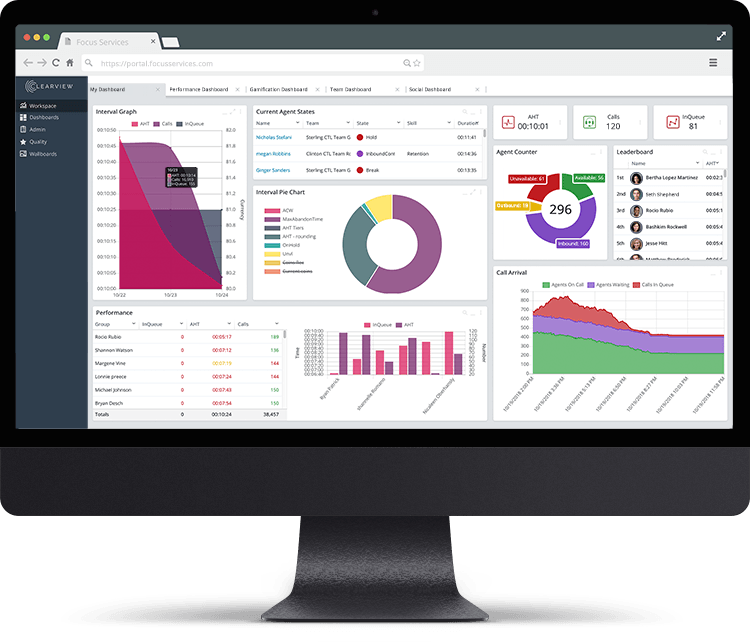 1
Agent performance tracked and measured.

2
Detailed reports provide insight into customer interactions
3
Agent course correction happens in real-time leading to greater efficiency.

 

"Game"-i-fi-cation



"You find the fun, and snap!—the job's a game!" We've integrated game design into ClearView's agent performance dashboard, complete with badges, awards, and coins that can be redeemed for real-world prizes, or better yet…real money.
  Real-time Course Correction

Life is a highway, even in a contact center, and at times, an agent might need some real-time course correction. ClearView sounds virtual rumble strips for agents veering off course. "Get back on the road! Danger ahead!" it shouts. Keeping our folks on track means significant results and savings for you.
  The Bounty of Big Data

ClearView grabs just about any piece of data that relates to customer contact operations. That is a LOT of data, but ClearView is undaunted. It sifts through it all and delivers real-time analysis that both agents and managers can act on.